About Venus Legacy™️ treatments:
The Venus Legacy™ delivers 100% safe, painless treatments and is suitable for all skin types
The Venus Legacy™ combines Multi-Polar RF, Magnetic Pulse Therapy (MP2) and VariPulse™ technology, to achieve superior clinical results in skin tightening, wrinkle reduction, fat reduction and the temporary reduction of cellulite
The Multi-Polar RF and Pulsed Magnetic Fields delivers fast, homogeneous heating deep in the dermis where collagen is located without damaging the epidermis
The Vari-Pulse allows adjustable pulsed negative and positive pressure, akin to a mild massage, for deep energy penetration, lymphatic drainage, as well as stimulating both fibroblasts and circulation
Real-Time Thermal Feedback integrates a hands-free thermometer with an on-screen visual feedback graph to allow the physician to ensure the temperature is comfortable for the patient and that the skin is heated to the right therapeutic temperature to achieve best clinical outcomes
Treatments take approximately 30 minutes, a minimum of 6 treatments for the face, 6-8 on the neck and 8 on the body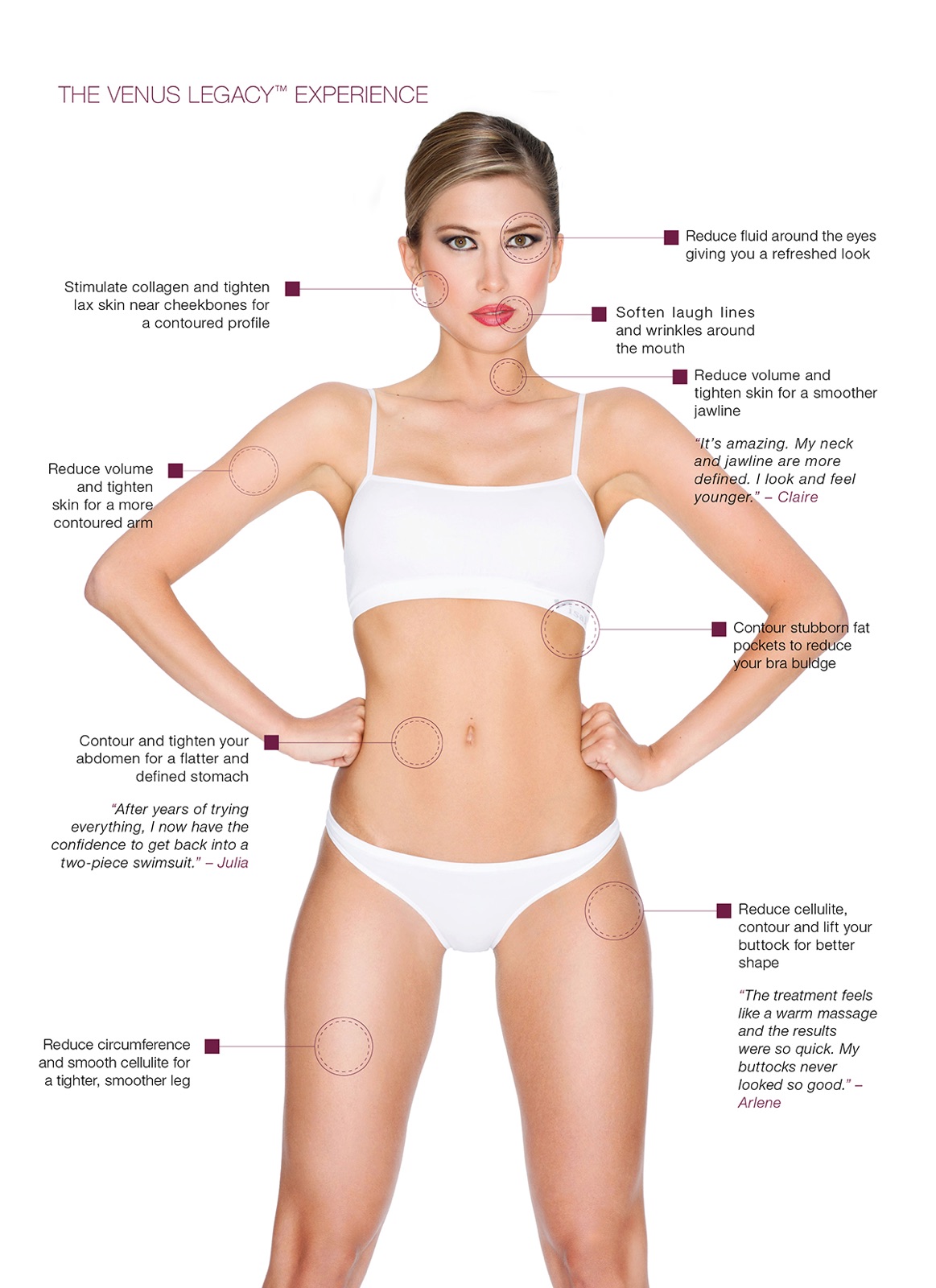 TREATMENT BENEFITS – face, neck and body
Tightens skin
Smooth's deep lines & wrinkles
Improves the appearance of skin
Diminishes redness
Lifts the eye area, elevates the cheeks and brows
Lifts, sculpts & contours the neck and body
Controls acne breakouts & lesions
Reduces appearance of cellulite & stretch marks
Long-term tissue remodeling for lasting results with minimal maintenance
Unlike typical skin tightening procedures that involve the hassle, danger, and downtime of surgery, the Venus uses its unique combination of multi-polar radio frequency and pulsed magnetic fields to create a heat matrix over the skin that triggers a natural healing response in the body. Once this healing response is activated, new collagen is formed – and the contraction of this new collagen leads to the skin tightening.
The Venus Legacy™ also allows you to target specific parts of the body and target problem areas with incredible precision. Face, neck, back, stomach, thighs, cellulite reduction, wrinkle reduction – wherever and whatever you choose, you can lose it. The end result is a reduction in the circumference of the targeted area and tighter, slimmer, smoother skin.
Call us today at 479-271-5355 or fill out the form here to schedule a free consultation with our body contouring experts.
*Individual results vary. Best results promoted by a healthy lifestyle. Images do not constitute a promise or representation of any particular outcome.
1420 Augustine Lane, Suite 7
Fayetteville, Arkansas 72703
4620 Rogers Ave, Suite 103
Fort Smith, Arkansas 72903
2877 W Walnut Street, Suite 103
Rogers, Arkansas 72756
904 SW 38th Street
Lawton, Oklahoma 73505