Why Tattoo Removal?
A tattoo is a series of ink deposits injected deep into the skin – designed to last forever. However, thousands of people decide to remove their tattoos each year because the designs are no longer relevant to their lifestyle. In the past, methods for removing unwanted tattoos were painful, invasive, and left conspicuous scarring. Thankfully, that has changed with the use of laser technology. Lasers are the safest and most effective way to erase unwanted tattoos.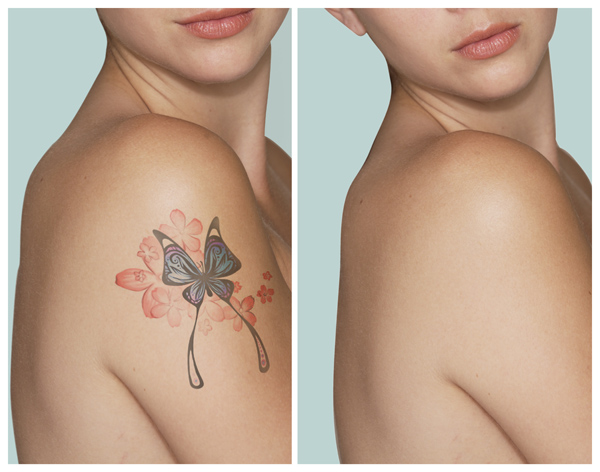 How does tattoo removal work?
Much like laser hair removal, laser tattoo removal involves using pulses of energy that are designed to break down the particles of the ink pigment. The ink deposits of tattoos are not absorbed into the skin when the tattoo is first inked because the particles are too large, so the laser is used to break these particles into smaller pieces that can then be absorbed and processed out by your body's natural filtering system.
What kind of laser does Laser Partners use?
Laser Partners has both PicoWay and Lutronic Spectra for tattoo removal. Both are Q-switched Nd:YAG lasers, which is the only type of laser shown to be effective in removing tattoos from darker skin. The difference between the two lasers is in how quickly the pulses are delivered. The Spectra delivers pulses in the nanosecond range (one billionth of a second), while the PicoWay delivers pulses in the picosecond range (one trillionth of a second).
What ink colors can the laser remove?
Most colors can be fully removed and all will fade significantly. Black, dark blue and red will resolve most quickly. Oranges and purples usually fade. Light blue, green and yellow are the most difficult to remove and will require more treatments to produce significant fading.
Does it work on all skin colors?
With the right technician using the right laser, laser tattoo removal is safe and effective for tattoos on all skin colors. Skin color does not influence the level of pain, scabbing, blistering or swelling you might experience as your body begins the healing process that will filter out the ink particles; however, clients with darker skin may be more prone to keloid scarring.
Does it hurt?
Most patients do not experience a large amount of discomfort. For more sensitive patients, we offer the option to purchase numbing cream that can be applied prior to treatment. Redness, scabbing and blistering are common side effects of laser removal.  However, if you follow the aftercare guidelines given to you by your technician, your skin should heal within 5-7 days.
When will I see results?
Typically, you will see results after 6 weeks. You have to give your body time to naturally get rid of the broken ink particles. In most cases, the tattoo will be completely gone in 8 treatments, but some professional tattoos may require up to 12 treatments or more because the ink will have been deposited deeper into the second layer of skin.
How much does it cost?
Cost per treatment depends on the size (small, medium, large) of the tattoo. You will be given a more precise quote by one of our technicians at the end of your consultation.
ASK US ABOUT OUR TOTAL REMOVAL GUARANTEE
TOTAL REMOVAL GUARANTEE
We guarantee the specific amount of ink that can be removed (if not 100%, we'll tell you that too). If we don't deliver on our promise, you receive free tattoo removal for a year.
LICENSED MEDICAL PROFESSIONALS
We are a trusted name in laser hair removal. Our technicians are skillfully trained and certified to provide you with exceptional care.
FREE CONSULTATIONS
Come in today and discuss options for your personalized treatment plan.
IN HOUSE FINANCING OPTIONS
We work with your budget to make your treatments affordable. Available to you with no credit check and low monthly payments to fit your budget.
1420 Augustine Lane, Suite 7
Fayetteville, Arkansas 72703
4620 Rogers Ave, Suite 103
Fort Smith, Arkansas 72903
2877 W Walnut Street, Suite 103
Rogers, Arkansas 72756
904 SW 38th Street
Lawton, Oklahoma 73505